State and Federal Courts
I have been admitted to practice and have litigated cases before the following trial and appellate courts:
Oregon trial courts, Oregon Court of Appeals Oregon Supreme Court
United States District Court for the District of Oregon
Third Circuit Court of Appeals (Inactive/2023)
Fourth Circuit Court of Appeals
Seventh Circuit Court of Appeals
Ninth Circuit Court of Appeals
United States Supreme Court
I will gain admission to additional state and federal courts as needed to handle litigation, either by application for admittance to any of the remaining circuits, or by temporary leave of the trial courts known as pro hac vice ("for this case") and I have done so in state and federal courts in South Carolina, Pennsylvania, Virginia, Indiana, and Florida.
Circuit Boundaries
United States Courts of Appeals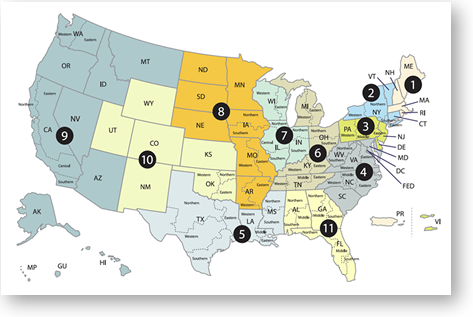 In many cases, I can provide the service and experience you need in state and federal courts across the country.
Please call to learn more about my practice, 503.274.4048.